Unique Identifier

Plug Products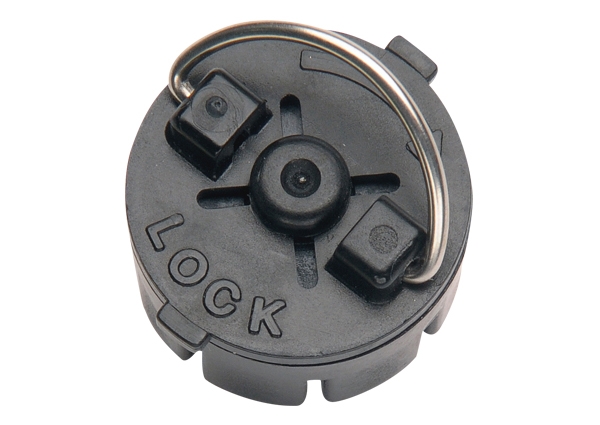 Unique Identifier Plug Memory Tokens
Not Recommended for New Designs
The IC used in the Unique Identifier plug memory token is "mature". While not EOL, we would recommend that new designs consider the newer CryptoAuthentication memory tokens.

Datakey Unique Identifier plug memory tokens provide 1.5 Kbit of EEPROM memory and a unique, non-changeable serial number and OEM code. The OEM code can be optionally customized so that memory tokens taken by one OEM are the only ones that will have that particular OEM code. Like the serial number, the OEM code is pre-programmed and is non-changeable. In addition to these features, Unique Identifier plug memory tokens include:
Foldable Stainless-Steel Bail – The plug token's stainless steel bail is used to lock the token in place. The bail also folds flat, allowing for a flush mount.
Corrosion-resistant Contacts – Conductive elastomer contacts on the periphery of the plug token resist corrosion to ensure reliable operation in the harshest environments.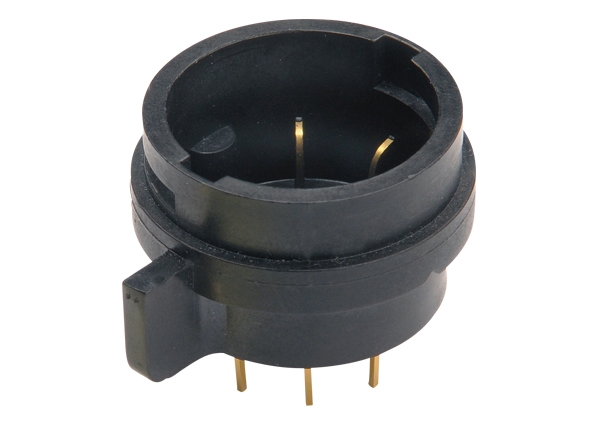 Receptacles for Unique Identifier Plug Tokens

Datakey Unique Identifier plug tokens mate with Datakey KSD and KSD Insert receptacles. These panel-mount receptacles are IP65-rated (splash-proof) and feature:
Resistance to Environmental Hazards – KSD Plug Receptacles are resistant to sand, dust, salt-fog, rain, magnetic fields, drop shock, and ESD.
Positive Token Retention – Turning the plug token's stainless-steel bail 45 degrees in the receptacle locks the plug token into place, preventing it from vibrating loose.
Flush Mount - KSD receptacles may be mounted such that neither the receptacle nor the inserted token protrude past the face of the panel.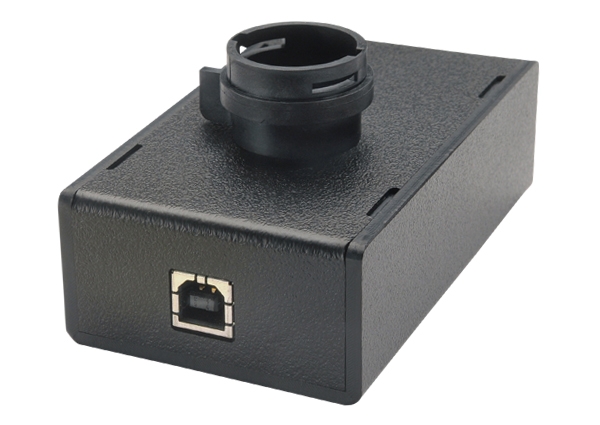 KSDLink Programmers
It is often desired to use a PC to read data from or write data to a memory plug token. The KSDLink programmers support the Unique Identifier Plug memory tokens (and all Serial Memory Plug Tokens as well) and connect to a PC via a USB port. The programmers come with Windows® drivers and a sample application. The sample application can be used for troubleshooting when integrating a memory plug token into an embedded design, as it provides a known-good way to communicate with the memory device. For those who wish to develop their own Windows® applications, we offer a development kit with all of the necessary tools, including the programmer.
KSDLink Development Kits
KSDLink development kits include everything needed to develop a Windows® application that can read data from and write data to a Unique Identifier Plug memory tokens (or Serial Memory plug token) using a KSDLink programmer. The development kit includes:
2 – Memory plug token samples
1 – KSDLink Programmer
1 – KSD panel-mount receptacle
Plus all cables, drivers, software and documentation
Windows® is a registered trademark of Microsoft Corporation.