ATEK Access Technologies Celebrates European Distributor's 30th Anniversary at Embedded World 2017
Mar 20, 2017
Press Release
EDEN PRAIRIE, Minn. (March 15, 2017) –ATEK Access Technologies today celebrated the 30th anniversary of Nexus GB Ltd., the European distributor for ATEK's Datakey brand. ATEK presented Nexus with a plaque to commemorate the achievement during Embedded World 2017 in Nuremberg, Germany. 2016 marked the 40th anniversary for the Datakey brand.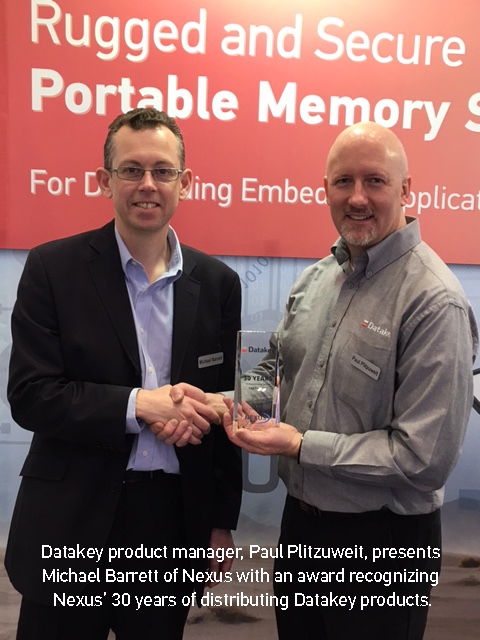 In January 1987, John Barrett founded Nexus with a 12-month contract with Datakey, Inc. for the UK and Ireland territory. Under Barrett's leadership, Nexus' business grew, becoming the most successful distributor for the Datakey product line. Barrett managed Nexus, for the next 20 years before passing the business down to his son, Michael, in 2007. Nexus has grown its territory beyond the UK and Ireland, now distributing the product line in Scandinavia, Germany, Switzerland and Austria.
"For the last 30 years, the Datakey product line has allowed us to meet customer demand within the UK for high quality, rugged, portable memory solutions," said Michael Barrett, managing director of Nexus. "The challenge we have is educating engineers who are aware of USB sticks, but need a more rugged, secure alternative. Last year we generated more leads than ever before and owe this success to our investment in marketing and our willingness to step outside the box and test new campaigns."
Nexus has provided millions of Datakey memory devices for manufacturers across the UK and Ireland for data logging, cashless vending, security, access control and many other applications. Its customers include leading manufacturers in the defense, transportation, medical and communications industries. For example, in the 1990s, Nexus worked with the UK government to develop a customized memory key that is used to control access to a secure telephone that is still being used by the UK government today.
Long term product availability is a key selling point of Datakey products and is critical to many Nexus customers. "We first introduced the Datakey portable memory solution to Mars Drinks in 1990, where the memory keys provided a cashless way to purchase hot beverages from coffee vending machines," added Barrett. "Twenty-seven years later, Mars is still using the same product today. This speaks volumes to the product's reliability and ability to perform out in the field."
The Datakey product line features portable memory devices that utilize solid over-molded construction, industrial-temperature electronics, redundant electrical contacts and harsh-environment, high cycle-life receptacles. Additionally, Datakey products have a proven history of long-term availability that consumer memory products, like USB flash drives and SD cards, lack. Since 1976, Datakey products have been the preferred portable memory solution by many of the world's largest defense, medical and commercial OEMs.
"Nexus' success can be attributed to its personable, analytical and creative people, and we're honored to have been a part of its 30-year history," said Sherri McDaniel, president of ATEK Access Technologies. "We hope to help grow Nexus into a truly international business."
For more information about ATEK Access Technologies, visit www.atekaccess.com. For more information about Datakey products, visit www.datakey.com.
For more information about Nexus GB Ltd., visit www.nexusgb.co.uk.
About ATEK Access Technologies
ATEK Access Technologies, LLC is part of the ATEK Companies group of technology and manufacturing businesses. Its industry-leading brands use the power of advanced machine-to-machine (M2M) technologies to provide customers access to superior efficiencies and savings, essential data and systems, improved safety and control, and expert solutions and support. Its brands include Datakey, Larco and TankScan. For more information, visit www.atekaccess.com.
About Nexus GB Ltd.
Nexus GB Ltd. has been providing manufacturers with rugged and secure portable memory solutions for over 30 years. It is the exclusive distributor for Datakey reprogrammable memory keys and tokens in the UK, Ireland, Germany, Switzerland, Austria and Scandinavia. For more information, visit www.nexusgb.co.uk.
Media Contact:
Christina Alvarez
Mulberry Marketing Communications
214-720-5943
calvarez@mulberrymc.com