Memory Device Protects Use of Medical Disposables Gives Choice of Sterilization Method
Feb 07, 2012
Press Release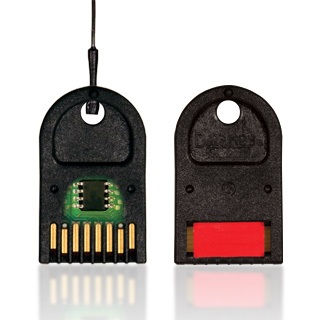 February 7, 2012. Savage, MN–Datakey Electronics' GammaSafe™ non-volatile memory tokens allow medical device manufacturers to add limit-use and anti-counterfeit features to their disposables, while sterilizing using their choice of methods. Released in October 2010, the GammaSafe line originally supported sterilization by ethylene oxide (EtO) gas, autoclave or gamma radiation. The latest testing by the company confirms that the GammaSafe memory tokens also survive e-beam sterilization with no data loss.
Historically, non-volatile memory devices, such as EEPROMs, have not been able to survive medical sterilization by gamma or e-beam radiation methods. This forced medical disposable manufacturers who wanted to limit the use of their devices to choose a sterilization method other than gamma or e-beam, or to employ a mechanical limit-use feature. The GammaSafe memory token allows medical device manufacturers to electronically limit the use of their disposables by tracking usage information on the memory token's non-volatile memory, even if they sterilize using gamma or e-beam radiation.
"The GammaSafe memory token is an external memory device, so it can easily be added to existing medical disposables, without changing their designs," said Paul Plitzuweit, business development engineer for the GammaSafe product line. "With the ability to sterilize via gamma or e-beam, the GammaSafe product gives medical OEMs the ability to reduce their sterilization time and costs, while still protecting their devices against counterfeits and overuse."
The GammaSafe portable memory token contains four kilobits of non-volatile, reprogrammable memory, and has been proven to withstand up to 45kGy (4.5Mrad) of gamma or e-beam radiation with no data loss or impact on functionality. The memory token functions similar to an EEPROM device and uses an SPI serial interface for communications.

The GammaSafe product line will be on display in the Datakey Electronics booth (Booth #1483) at the Medical Design & Manufacturing Exposition (MD&M West) from February 14th through the 16th, being held at the Anaheim Convention Center in Anaheim, California USA. More information is available at www.GammaSafe.com. For immediate questions, please contact Datakey Electronics at 1-800-328-8828 (+1-952-746-4066).
About Datakey Electronics
Datakey Electronics manufactures rugged, portable memory keys and tokens and their mating receptacles. Since 1976, the company has provided complete portable memory solutions with long-term availability to medical, industrial and government OEMs. Datakey Electronics' rugged product lines include memory devices that survive EtO, autoclave, gamma and e-beam sterilization procedures with no loss of data. Typical uses include: anti-counterfeit, limit-use, data logging, access control and
firmware update applications.
Datakey Electronics, a division of ATEK Products, LLC, is based in Savage, Minnesota, where it designs, molds and assembles all of its products in its own custom-built factory.