You Just Bricked Hundreds of Devices. Now What?
Dec 20, 2017
Article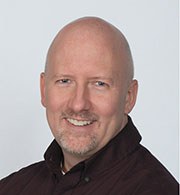 The famous Pixar movie, Finding Nemo, ends with the fish from the aquarium escaping back to the ocean in sealed plastic baggies. After celebrating their "success," the porcupine pufferfish, Bloat, asks, "Now what?"
Asking "Now what?" is pretty good sign that you are in a situation that you hadn't planned for or fully thought through. Recently, smart lock manufacturer LockState found themselves in a "Now what?" situation. The company had pushed out an over-the-air (OTA) firmware update to its model 6000i RemoteLocks, but the update failed, rendering the locks inoperable and unable to receive further OTA updates. In other words, the update "bricked" about 500 smart locks.
The unthinkable happened—an OTA update bricked hundreds of remote customer-owned devices and they won't accept another OTA update. "Now what?"
An article on bleepingcomputer.com included the response sent to affected LockState customers. It offered two solutions:
Option 1:
The customer ships the smart part of the lock back to the manufacturer so it can be updated.
Total time to fix and return: 5-7 days
Option 2:
The manufacturer ships out a replacement smart lock and the customer sends their faulty unit back to the manufacturer.
Total lead time to receive replacement lock: 14-18 days.
The above scenario, or ones that are similar, should remind designers of Internet-connected devices (aka cloud-connected devices) that support OTA updates to have a solid "Plan B" method for updating their devices in case an OTA update fails, or worse yet, bricks the units.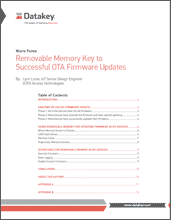 ATEK engineer, Lynn Linse, recently wrote a white paper on this topic titled: Removable Memory Key to Successful OTA Firmware Updates. The paper discusses that IoT devices, especially those that use mobile/cellular communications, often have units that fail to update after an OTA update push. The white paper explores various methods of updating firmware when an OTA update fails. The benefits of using removable memory for manual firmware updates and other functions are discussed. The paper also explores why OTA updates fail and provides helpful hints to maximize OTA update success.
To learn more about the white paper or to download it, please visit our download page.
If your company has or will be developing a cloud-connected device that may support OTA firmware updates, I would highly recommend you download this helpful resource so you can avoid saying, "Our OTA update just failed. Now what?"
Paul Plitzuweit
Senior Product Manager, Datakey
ATEK Access Technologies, LLC