Industrial DFX Series

An SD card in a rugged, industrial-strength form-factor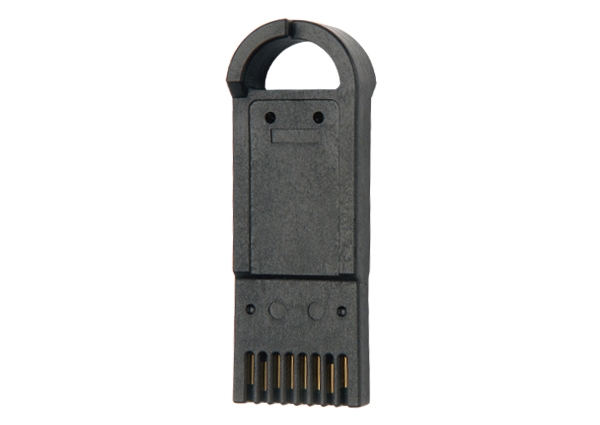 Industrial DFX Memory Tokens
Industrial DFX RUGGEDrive™ memory tokens (DFX-I and DFX-IS models) provide SD card functionality, using either an SPI or SD interface and are available in capacities from 16 - 64 GB. They have several advantages over consumer SD cards, which make them ideally suited for embedded and industrial applications outside of the consumer market:
Ultra-Rugged Construction - Industrial DFX tokens use solid over-molded construction, making them impervious to liquids and virtually crush-proof.
Security Features - The unique form factor means that Industrial DFX tokens won't plug into standard ports found on a PC.
Industrial Temperature Operation - All Industrial DFX tokens are rated for operation across the full industrial temperature range of -40˚C to +85˚C.
Optional Fixed/Controlled BOM - Changes to Industrial DFX tokens are documented with a product change notification (PCN). A fixed BOM version is optionally available. Contact Us for details.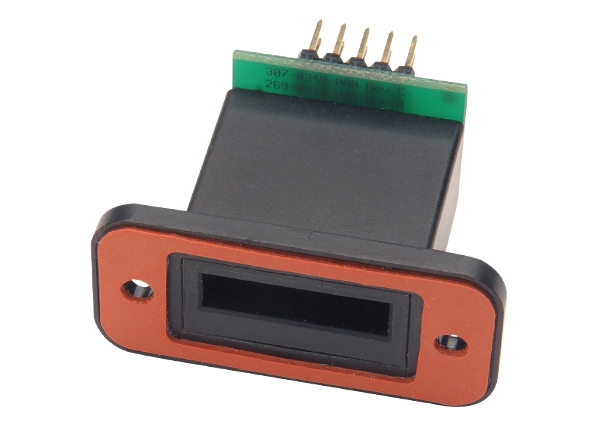 DFX Receptacles
There are over two-dozen receptacles to choose from when incorporating an Industrial DFX RUGGEDrive memory token into an embedded design. Choose from board-mount or panel-mount receptacles. The panel-mount receptacles offer models with IP65 or IP67 ratings, for applications that require ingress protection. We also offer models that incorporate design elements to reduce electromagnetic emissions. Like DFX memory tokens, DFX receptacles offer several advantages over traditional SD card connectors:
IP65- and IP67-Rated Receptacles - The SR4310 and SR4410 panel-mount receptacles are available in IP65 and IP67 versions and feature a 10-pin header that allows the receptacle to connect to a microcontroller-based board using a commercially-available 10-conductor ribbon cable.
Increased Security and Lower Support Costs - Because standard SD card connectors are not used, embedded devices are at much less risk from viruses and malware, since SD cards won't plug in to RUGGEDrive™ receptacles. This also reduces support costs and eliminates the need to support every SD card that a user could potentially plug in (both now and in the future).
High Cycle Life Contacts - Most SD card connectors are rated for only 10,000 insertion/removal cycles. At just 10 cycles per day, that connector will last less than 3 years! The contacts on the RUGGEDrive receptacles are rated for at least 50,000 insertion/removal cycles. At the same rate, these receptacles will still be going strong after 13 years!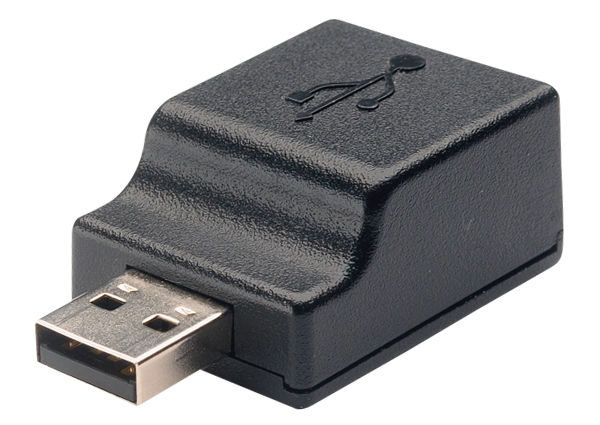 DFX PC Adapter
DFX PC adapters allow users to transfer data from a DFX RUGGEDrive memory token to a PC (or vice versa) through a standard USB Type A port. Simply plug the DFX token into the adapter and then plug the adapter into the computer's USB port. The operating system will then recognize it as a USB flash drive. In addition to the standard DFX PC adapter, there is also a special read-only version that will only allow data to be read from the inserted DFX token. A PC cannot write or erase any data on a DFX token that is inserted into a Read-Only DFX PC adapter.
It should be noted that Datakey products are only sold to qualified OEM customers. Datakey products are not available through retailers or major electronic distributors. This means that the OEM can control who gets the PC adapters.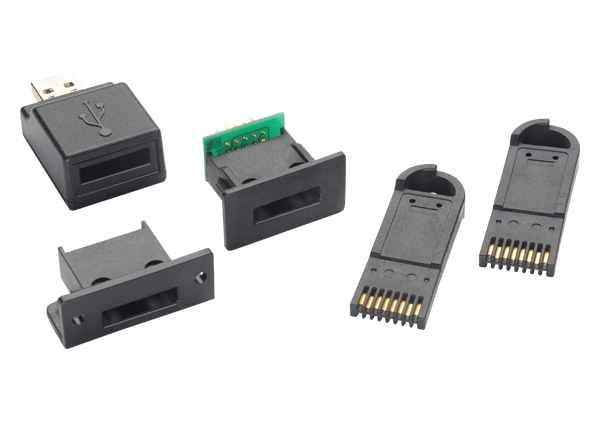 Industrial DFX Development Kits
If you are considering an Industrial DFX RUGGEDrive™ solution for an embedded application, consider purchasing one of our Industrial DFX development kits. Each kit comes with:
2 - DFX-I memory tokens
1 - DFX PC adapter
1 - SR4220PCB board-mount receptacle
1 - SR4210 panel-mount receptacle
1 - 10-pin header to 10-pin header ribbon cable