Founder of Datakey, Bill Flies, Dies at 78
Apr 01, 2021
Article
Employees writing passwords on pieces of paper. It's not secure. It's a problem.

Many people can recognize a problem. Fewer people can envision a practical solution. Even fewer people yet have the technical knowledge to turn that solution into a product. A very small number have the ability to take a product and turn it into a business, and only a tiny number of people have the right stuff to create a successful business and brand that lasts for decades. Bill Flies was such a person.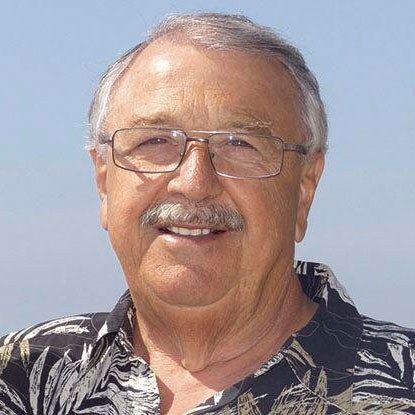 Bill Flies (pronounced "fleece") founded Datakey in the mid-1970's, and witnessing employees writing passwords on paper was actually one of the things that inspired him to start the company. The company, which was then called The Systems Group, Inc., was incorporated on April 27th, 1976. Less than a month from now will mark the 45th anniversary of the founding of Datakey. Sadly, its founder will not be celebrating this mark with us, as Bill passed away on February 19th at the age of 78.
Bill Flies was one of the early pioneers of solid-state portable memory. When it was introduced in 1981, the original "Data Key" (the DK1400) was one of only a few solid-state portable memory products on the market. Most other products were early versions of the smart card. The more robust design of the Data Key made it much better suited for industrial applications than thin card-shaped products. The Data Key also differed from other products at the time as its memory could be electronically erased and re-written. While president of Datakey in the early 1980's Bill commented, "Early in my engineering career, I perceived a strong need in computer architecture for a personal, portable, and updatable information device. From this idea, we built Datakey."
The early years of Datakey saw the introduction of several new products and other developments under Bill's leadership. A major accomplishment from 1983 was taking the company public. Datakey, Inc. completed an initial public offering (IPO) of common stock in October of 1983, with the company's common stock being traded under the NASDAQ symbol DKEY. The picture to the right was taken from the 1983 Annual Report and shows Bill Flies (left) and John Underwood (right). Bill was the Chairman of the Board and John was the President and CEO. Shown in the background is a picture of the Parallel Key. The 1984 development of the Parallel Key line would pay off in 1986 when Datakey landed a $4.7 million contract with the National Security Agency (NSA) to develop a new parallel key called the KSD-64A. The KSD-64A was used to control access to a secure telephone, called the STU-III, which was manufactured by Motorola, AT&T and RCA. This was the first time a Datakey product was used as a Crypto Ignition Key (CIK). Even today, this type of CIK application is the largest market vertical for Datakey products. Datakey produced over 1 million KSD-64A keys over the life of the program and these keys were used by US presidents from Ronald Reagan to Barrack Obama (see blog post: A 30-Year Run for the Parallel Key Line).
In addition to Datakey, Bill Flies also started another technology company, XATA Corporation, in 1985. XATA produced fleet management solutions for trucking companies. Interestingly, XATA was a large Datakey customer, using another parallel key to essentially replace a driver's logbook, recording items like driver rest and drive times, average speed, mileage, fuel consumption and more. Over the course of his career at XATA, Datakey and other companies, Bill was granted over 70 patents for his designs.

Nearly 45 years after Bill Flies founded Datakey, the brand and product line he created is still going strong. I have been associated with the Datakey brand since 2008, with most of those years as Datakey product manager, and I consider it an honor and a privilege to continue the work Bill started all those years ago.

For more information on the life of Bill Flies, I would recommend you read the following articles, which were used as sources for some of the material in this posting:
Gessner, John. "Burnsville technology entrepreneur dies at 78." SUN THISWEEK BURNSVILLE-EAGAN, 12 March 2021, p. 6A.

St. Anthony, Neal. "Bill Flies, tech pioneer and restorer of Old Frontenac, Minn., dies at 78." Star Tribune [Minneapolis], 1 March 2021.
Paul Plitzuweit
Senior Product Manager - Datakey
ATEK Access Technologies, LLC