New Datakey Bar Series Receptacles Minimize Mounting Space
May 22, 2018
Press Release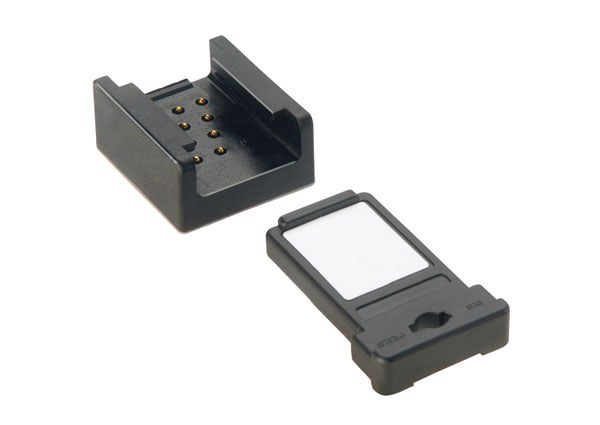 EDEN PRAIRIE, Minn. (May 23, 2018) – ATEK Access Technologies released the latest additions to its Datakey Bar Series of ruggedized removable memory devices. The BRFG and BRFN panel-mount Bar receptacles minimize the required internal mounting space by eliminating the pins that would normally extend into the enclosure. The new receptacles instead feature flat targets on the bottom surface of the receptacle. Spring probes from within the enclosure are used to contact the flat targets.
Datakey Bar receptacles and memory tokens are frequently designed-in to tactical military cryptographic devices. In these applications, the removable Bar memory token functions as a Crypto Ignition Key (CIK), where it functions as a credential that both enables operation of the crypto device and declassifies the device when it is removed. Figure 1 (right) shows a Bar memory token being inserted into a Bar receptacle.
"Crypto devices have been continually shrinking in size, down to the point where some are truly handheld devices," said Paul Plitzuweit, Senior Product Manager for the Datakey product line. "When trying to squeeze everything in to a smaller space, millimeters count."
Small spring-probe contacts are used to connect to the flat targets on the underside of the receptacle. Some of these spring-probe contacts are as small as a tenth of an inch (2.54 mm) in height, so small that they reside within the thickness of the enclosure wall, where they essentially take up almost no internal space. Figure 2 (below) shows a cross-section view of the new Bar receptacle with an interfacing PCB with low-profile spring probes.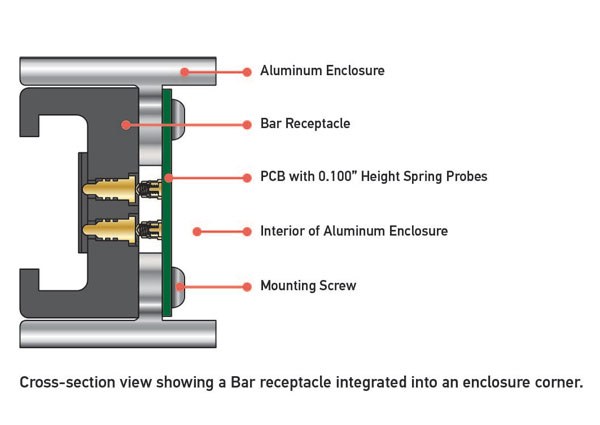 With the addition of these new models, the panel-mount Bar receptacles are now available in three different pin lengths, accommodating various housing thicknesses (see Figure 3, below). Bar receptacles use a non-traditional mounting, where they mount on the surface of a device or can be integrated into a corner to minimize the amount of front panel space required.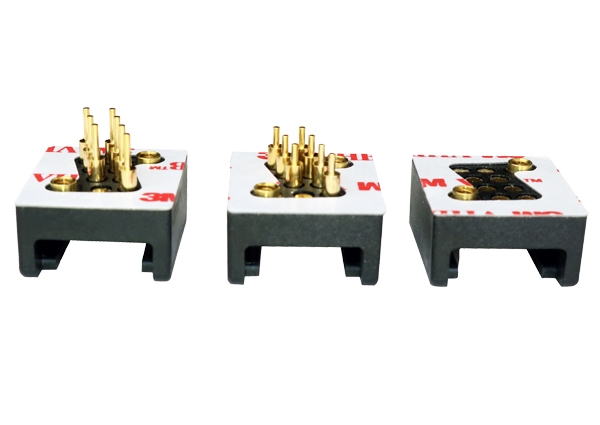 Bar memory tokens mate with all Bar receptacles and utilize an internal EEPROM for data storage. Memory capacities range from 1 kilobit to 256 kilobits with an option of SPI, I2C or Microwire serial interfaces. Like the receptacles, the Bar memory tokens utilize solid over-molded construction using an engineered thermoplastic. The Bar removable memory system is designed for challenging military and industrial applications. The system has been tested to several MIL-STD-810 environmental specifications, including: shock, vibration, immersion, salt-fog, blowing dust, blowing sand, freezing rain, solar radiation and more. The Bar receptacle and memory token system has an operating temperature range of -40°C to +85°C (-40°C to +100°C storage).
The Bar removable memory system provides an intuitive slide-in/slide out operation and features an open design for easy in-field cleaning. It also incorporates features that provide audible and tactile feedback when the token is fully inserted. All Bar receptacles are secured using two internal screws, providing for a tamper-evident installation. The receptacles are offered with or without an adhesive gasket, which contributes to the receptacle's IP67 rating.
To learn more about Datakey Bar Series memory tokens and receptacles, please visit http://datakey.comproducts/serial-memory/bar-series.
About ATEK Access Technologies
ATEK Access Technologies, LLC is part of the ATEK Companies group of technology and manufacturing businesses. Its industry-leading brands use the power of advanced machine-to-machine (M2M) technologies to provide customers access to superior efficiencies and savings, essential data and systems, improved safety and control, and expert solutions and support. Its brands include AssetScan, Datakey, Larco and TankScan. For more information, visit http://atekaccess.com.
ATEK's Datakey product line features portable memory devices that utilize solid over-molded construction, industrial-temperature electronics, redundant electrical contacts and harsh-environment, high cycle-life receptacles. Additionally, Datakey products have a proven history of long-term availability that consumer memory products, like USB flash drives and SD cards, lack. Since 1976, Datakey products have been the preferred portable memory solution by many of the world's largest defense, medical and industrial OEMs. For more information, visit http://datakey.com.
Media Contact:
Christina Alvarez
Mulberry Marketing Communications
214-571-6322
calvarez@mulberrymc.com