New Datakey Read-Only DFX PC Adapter Safeguards Logged Data
Aug 20, 2018
Press Release
EDEN PRAIRIE, Minn. (August 22, 2018) – ATEK Access Technologies today launched its new Datakey Read-Only DFX PC Adapter. The adapter is the latest addition to the DFX RUGGEDrive™ Series of Secure Digital (SD) memory devices. It works to prevent accidental deletion or modification of recorded data without the need for a read/write switch.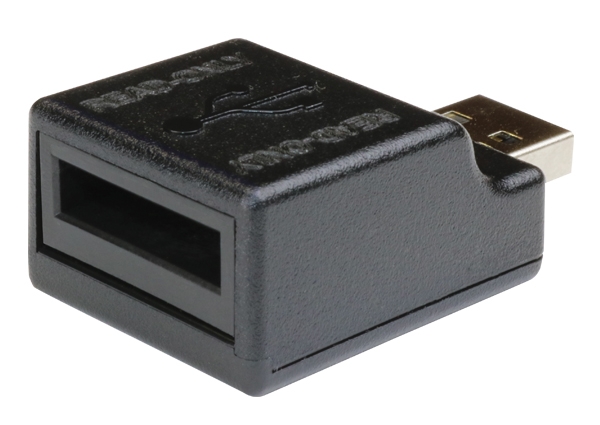 The Datakey Read-Only DFX PC Adapter functions much like an SD card reader, except that it works with Datakey DFX RUGGEDrive memory tokens, which are SD cards molded into Datakey's proprietary RUGGEDrive token form-factor. When plugged into a computer's USB port, the adapter prevents modifications or deletions to the data stored on the inserted memory token. The combination of the memory token and read-only adapter gives embedded designers a removable memory solution that safeguards logged data once the token has been removed from the embedded host.
"In some markets, like defense, there are negative impressions of USB flash drives and SD cards due to security and durability concerns," said Paul Plitzuweit, Senior Product Manager for the Datakey product line. "However, a removable memory device is often an ideal solution for many applications. The RUGGEDrive line addresses this challenge by providing removable memory devices with USB flash drive or SD card functionality that are solid over-molded into tamper-evident, non-standard form-factors."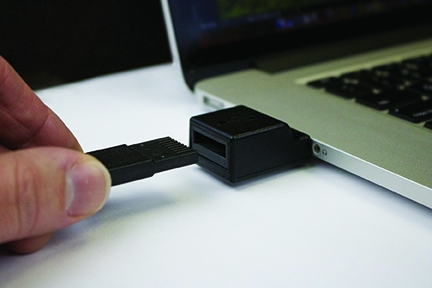 The non-standard form-factor of the RUGGEDrive memory tokens limit the opportunities for the memory devices to be used in inappropriate ways. If a memory device doesn't plug in directly to a computer, tablet, smartphone or camera, it is much less likely that the data on that device will be accidentally deleted or modified. Of course, sometimes it is necessary to transfer data from the proprietary memory device to a computer. For these occasions, Datakey offers adapters that plug in to a USB port. The standard adapters allow read/write access, where the new adapter only allows read access.
The protection afforded by the proprietary form factor of these devices is only effective if access to the adapters is limited, so ATEK controls the availability of its Datakey products by only selling direct to qualified OEM customers domestically and through special authorized distributors internationally. This allows OEMs to control which memory tokens and adapters their end users have access to.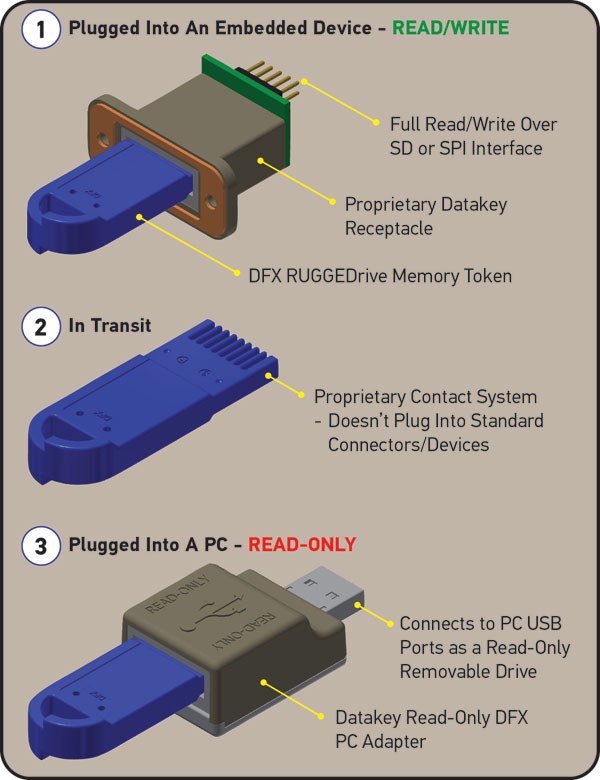 How It Works
The embedded host utilizes a Datakey DFX RUGGEDrive memory token for data storage/transfer. The DFX token plugs into a Datakey receptacle. The embedded processor then records data to the inserted DFX memory token, communicating to the Secure Digital device using SD or SPI mode.
When a transfer of the recorded data is desired, the token may be removed from the receptacle. Although the DFX memory token is essentially an SD card, the proprietary shape and contact system prevents it from being used in standard devices, as it physically won't plug-in to SD, USB or other standard ports.
In order to transfer the data to a computer, the Read-Only DFX PC Adapter is used. The adapter plugs-in to a USB port and functions as an SD card reader, but only works with Datakey DFX RUGGEDrive memory tokens. The adapter prevents the PC from modifying or deleting the data on the token. The data can only be read or transferred to the PC.
To learn more about the new Datakey Read-Only DFX PC Adapter and the RUGGEDrive series of removable memory products, please visit http://datakey.com/products/ruggedrive.
About ATEK Access Technologies
ATEK Access Technologies, LLC is part of the ATEK Companies group of technology and manufacturing businesses. Its industry-leading brands use the power of advanced machine-to-machine (M2M) technologies to provide customers access to superior efficiencies and savings, essential data and systems, improved safety and control, and expert solutions and support. Its brands include AssetScan, Datakey, Larco and TankScan. For more information, visit http://atekaccess.com.
ATEK's Datakey product line features portable memory devices that utilize solid over-molded construction, industrial-temperature electronics, redundant electrical contacts and harsh-environment, high cycle-life receptacles. Additionally, Datakey products have a proven history of long-term availability that consumer memory products, like USB flash drives and SD cards, lack. Since 1976, Datakey products have been the preferred portable memory solution by many of the world's largest defense, medical and industrial OEMs. For more information, visit http://datakey.com/.
Media Contact:
Kim Syrios
Mulberry Marketing Communications
248-787-8295
ksyrios@mulberrymc.com