No Room for Error – Accurately Pairing Wireless Medical Devices with a Physical Token
Jan 31, 2022
Article
Anyone familiar with wireless devices knows one thing for sure – these seemingly magical devices are easy to enjoy and take for granted until, inevitably, something goes awry.
In the life-sustaining, FDA-regulated market of medical devices, however, there is zero margin for error. The convenience and efficiency afforded by high-end, wireless medical tools, though, is priceless – and the safe integration of such tools into healthcare environments is an absolute necessity.
The connection is key
Stryker Corporation manufactures endoscopic video systems that wirelessly transmit a live feed of a surgery inside the body to one or more high-definition monitors. As with any wireless system, interference is always a concern, and coexistence with other wireless devices is required. Not only does this wireless coexistence involve common intentional radiators like mobile phones and Wi-Fi routers, it also applies to other instances of the wireless medical device. In this case, there could be multiple operating rooms in close proximity all using these wireless video transmitters and displays.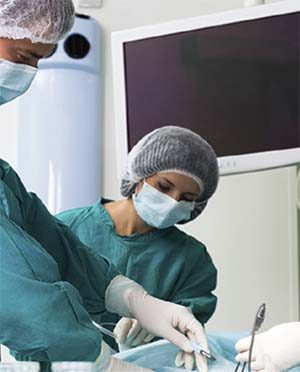 In order to ensure wireless coexistence with other nearby video cameras and wireless monitors, an accurate wireless link between the monitor and the transmitter is required. For obvious reasons, it is imperative that the video stream from the camera in one operating room only display on the desired monitors in that room and not on any monitors in nearby rooms.

To remove any ambiguity or guesswork, Stryker created a manual pairing process utilizing Datakey memory tokens to physically carry the device-linking data between the monitor and transmitter.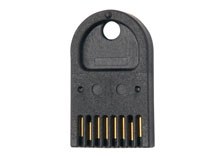 While such pairing could take place using a pairing cable, using a portable memory device eliminates the need to move the monitors within reach of the connecting cable. Additionally, the small memory device is much easier to clean/sterilize.
Get your ideas churning
For all the details and more information on this application, download and read our case study (850k PDF, no sign-in required) here on our website.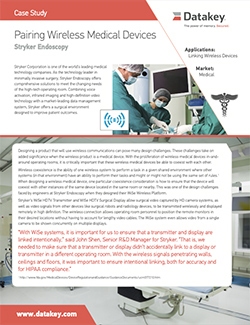 There are many possible applications for the pairing of wireless products in our world – especially in mission-critical situations requiring absolute certainty in pairing. Using a portable memory device is an intuitive way to positively pair up transmitter and receiver(s) and could be just the solution you need in your design.