Unique Identifier Keys

Key Products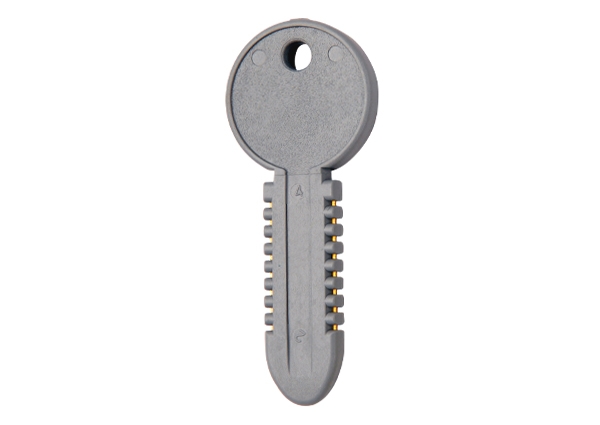 Unique Identifier Keys
Not Recommended for New Designs
The IC used in Unique Identifier memory keys is "mature". While not EOL, we would recommend that new designs consider the newer CryptoAuthentication memory tokens.
Datakey Unique Identifier memory keys provide 1.5 Kbit of EEPROM memory and a unique, non-changeable serial number and OEM code. The OEM code can be optionally customized, so that memory keys taken by one OEM are the only ones that will have that particular OEM code. Like the serial number, the OEM code is pre-programmed and is non-changeable. In addition to these features, Unique Identifier keys include:
Ultra-rugged Construction – Unique Identifier keys are solid over-molded using a durable composite, making them impervious to liquids and virtually crush-proof.
Redundant Contacts – With contacts on both sides of the memory key it is impossible to insert it "upside-down."
Branding Options – The keys are available in six standard colors and have custom logo options for the shank and head areas.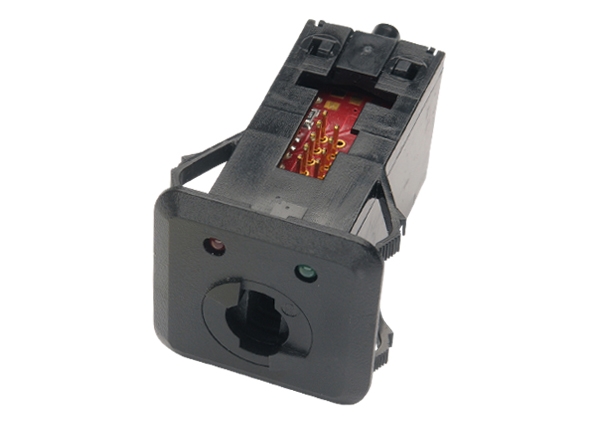 Receptacles for Unique Identifier Keys

Datakey Unique Identifier keys mate with Datakey board-mount and panel-mount key receptacles. Features include:
LED Indicator – Optional LEDs notify the user when the key is being written to (red LED) and when it is safe to remove the key (green LED).
High Cycle-life Contacts – All Datakey key receptacles are rated for a minimum of 200,000 insertion cycles.
Positive Key Retention – Turning the key 90 degrees in the receptacle locks the key into place, preventing it from vibrating loose.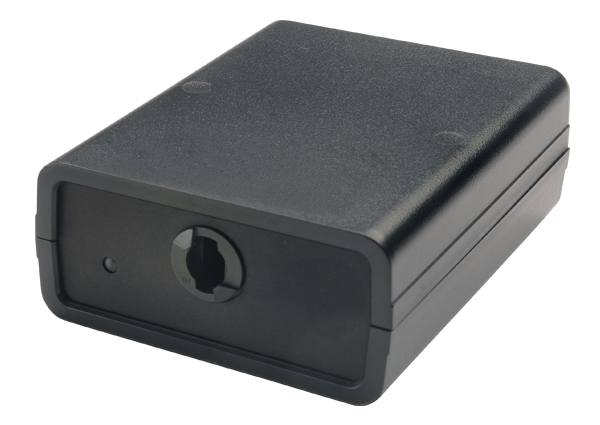 KeyLink Programmers
It is often desired to use a PC to read data from or write data to a memory key. The KeyLink programmers support the Unique Identifier memory keys (and all Serial Memory keys as well) and connect to a PC via a USB or RS-232 port. The programmers come with Windows® drivers and a sample application. The sample application can be used for troubleshooting when integrating a memory key into an embedded design, as it provides a known-good way to communicate with the memory device. For those who wish to develop their own Windows® applications, we offer a development kit with all of the necessary tools, including the programmer.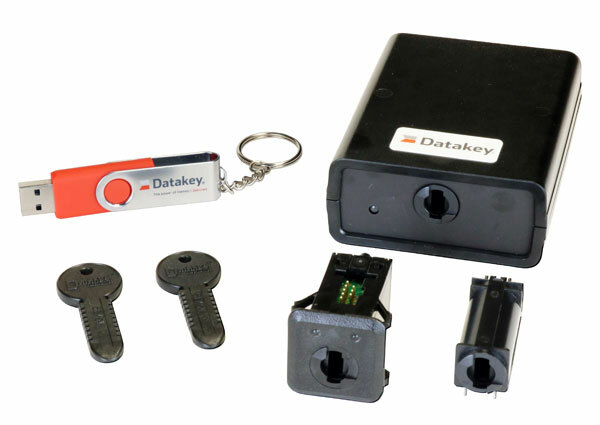 KeyLink Development Kits
The KeyLink development kits include everything needed to develop a Windows® application that can read data from and write data to a Unique Identifier memory key (or Serial Memory keys) using a KeyLink programmer. The development kit includes:
2 – Memory key samples
1 – KeyLink Programmer
1 – KC4210PCB board-mount receptacle
1 – KC4210 panel-mount receptacle
Plus all cables, drivers, software and documentation
Windows® is a registered trademark of Microsoft Corporation.