DFX RUGGEDrive Development Kit
The DFX RUGGEDrive Development Kit provides all the necessary tools to build a simulated system to test its abilities and benefits. It is a cost-effective way to bring products to market faster, reduce design and development costs, and to respond quickly to changing market demands. Each kit includes (1) DFX PC Adapter, (1) SR4210 panel-mount receptacle, (1) SR4220PCB board-mount receptacle, and (2) customer-specified DFX token samples.
In addition to being a useful tool during the development cycle, the DFX RUGGEDrive Development Kit can also be utilized during the life of the product as a known good solution to compare against if problems arise in a host system. The user can quickly pinpoint the root cause of failure by using the development kit to verify the memory token, receptacle and cabling.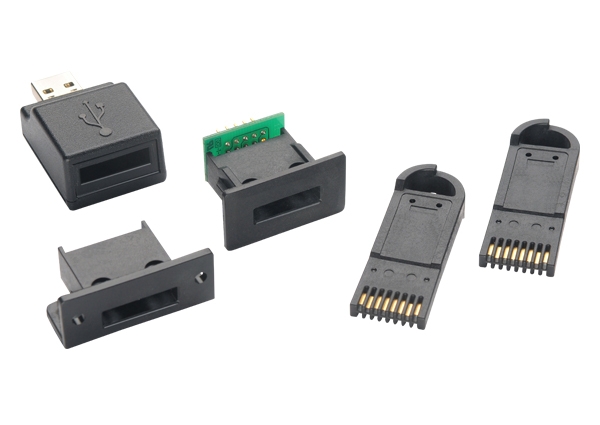 DFX4GB
Model
Part Number
702-0084-000A
Programmer
DFX PC Adapter
Portable Memory Device
Two DFX4GB memory token samples
Receptacles
SR4210 panel-mount receptacle SR4210PCB board-mount receptacle
Software
NA
Supported Operating Systems
Those supporting the USB Mass Storage Class
Included Accessories
8" 10-conductor ribbon cable for SR4210 panel-mount receptacle
Compliance
RoHS Compliant, CE
Other Features
NA
DFX8GB
Model
Part Number
702-0084-001A
Programmer
DFX PC Adapter
Portable Memory Device
Two DFX8GB memory token samples
Receptacles
SR4210 panel-mount receptacle SR4210PCB board-mount receptacle
Software
NA
Supported Operating Systems
Those supporting the USB Mass Storage Class
Included Accessories
8" 10-conductor ribbon cable for SR4210 panel-mount receptacle
Compliance
RoHS Compliant, CE
Other Features
NA
DFX16GB
Model
Part Number
702-0084-002A
Programmer
DFX PC Adapter
Portable Memory Device
Two DFX16GB memory token samples
Receptacles
SR4210 panel-mount receptacle SR4210PCB board-mount receptacle
Software
NA
Supported Operating Systems
Those supporting the USB Mass Storage Class
Included Accessories
8" 10-conductor ribbon cable for SR4210 panel-mount receptacle
Compliance
RoHS Compliant, CE
Other Features
NA
DFX32GB
Model
Part Number
702-0084-003A
Programmer
DFX PC Adapter
Portable Memory Device
Two DFX32GB memory token samples
Receptacles
SR4210 panel-mount receptacle SR4210PCB board-mount receptacle
Software
NA
Supported Operating Systems
Those supporting the USB Mass Storage Class
Included Accessories
8" 10-conductor ribbon cable for SR4210 panel-mount receptacle
Compliance
RoHS Compliant, CE
Other Features
NA
DFX64GB
Model
Part Number
702-0084-004A
Programmer
DFX PC Adapter
Portable Memory Device
Two DFX64GB memory token samples
Receptacles
SR4210 panel-mount receptacle SR4210PCB board-mount receptacle
Software
NA
Supported Operating Systems
Those supporting the USB Mass Storage Class
Included Accessories
8" 10-conductor ribbon cable for SR4210 panel-mount receptacle
Compliance
RoHS Compliant, CE
Other Features
NA