IIX Series Extended Length Memory Tokens
Datakey IIX Unique Identifier extended length memory tokens provide 1.5 Kbits of EEPROM along with a unique, non-changeable serial number. IIX memory tokens have an 2-wire (I2C) serial interface and can be written to/read from via a Datakey SlimLink™ Programmer or any microcontroller. The EEPROM in the IIX token has a unique factory-embedded serial number that cannot be changed by the user. The unique serial number can be used to prevent duplication of tokens by using the serial number as a unique encryption seed or by having the host system store a list of authorized serial numbers. The memory is solid over-molded using a rugged composite that protects the embedded memory from harsh environmental influences.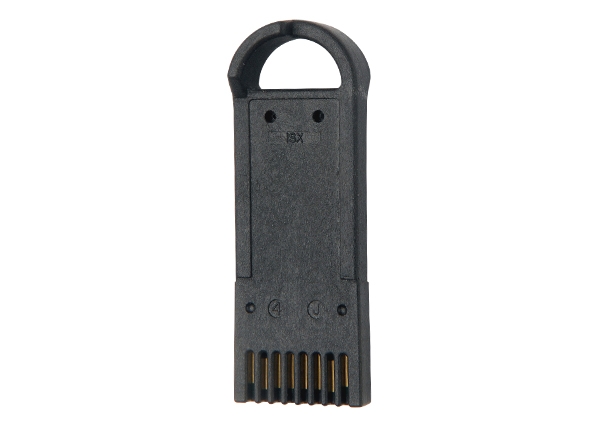 IIX1.5Kb
Part Number

611-0220-000A (Black)
611-0220-002A (Red)
611-0220-004A (Yellow)
611-0220-005A (Green)
611-0220-006A (Blue)
611-0220-008A (Gray)

Memory Capacity

1.5 Kb (1,536 bits) 192 x 8

Interface

I²C

Memory Technology

EEPROM

Voltage

2.7 to 5.5 V

ESD Protection

15 kV (per Std. 064-1028)

Read Cycles

Unlimited

Write/Erase Cycles

100,000 min.

Data Life (Storage)

10 years min.

Contact Life

10,000 cycles min.

Operational Temperature

-40 ˚C to +85 ˚C

Storage Temperature

-40 ˚C to +100 ˚C

Used With

All SlimLine Receptacles (SRxxxx) and SlimLink III programmers

Compliance

RoHS Compliant

Other Features

Redundant contacts.
Custom logo options available.