SR4220SM
The SR4220SM is a board-mount receptacle for all Datakey SlimLine™, Extended SlimLine, NFX, and RUGGEDrive™ memory tokens (see token data sheets for more details). The SR4220SM receptacle features corrosion-resistant, gold dot contacts that perform reliably over a wear life of at least 50,000 insertion/removal cycles. The receptacle includes a detent mechanism that gives users tactile confirmation when an inserted token is physically engaged. The SR4220SM also contains a Last-On/First-Off (LOFO) contact that may be used to protect the host bus by ensuring that tokens have made secure contact with the receptacle before any signals are transmitted (please contact ATEK for this option with NFX, DFX, and UFX tokens).
The SR4220SM receptacle is a space-saving component that mounts directly onto a printed-circuit board. The SR4220SM is a modified version of the standard SR4210SM--the mounting flange has been removed for space savings. Since the mounting flange has been removed, special care must be taken in the design of the mounting of these receptacles to ensure that excessive stress is not placed on the leads. The SR4220SM is also available with through-hole leads (SR4220PCB).
The SR4220SM receptacle replaces the SR4220SMT receptacle. Both receptacles share the same PCB footprint; however, the SR4220SM receptacle contact tails are now roughly coplanar with the bottom of the receptacle body, whereas the SR4220SMT contact tails had an intentional toe-down angle.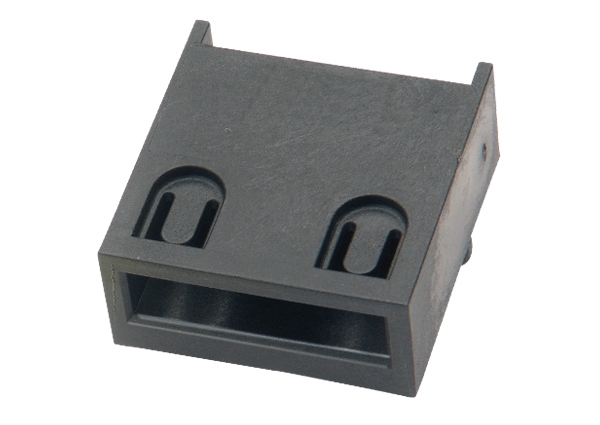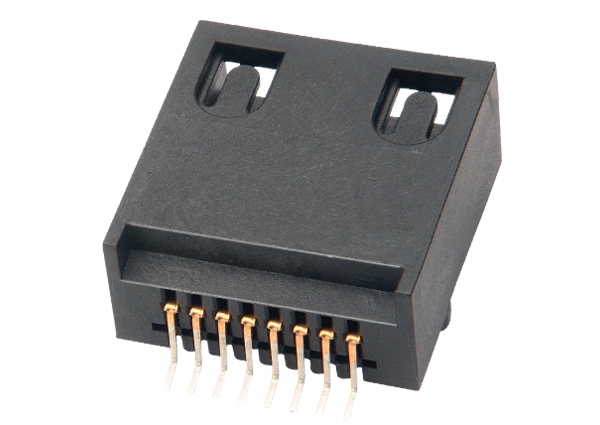 SR4220SM
Part Number
606-0055-004A
Mounting Type
Board Mount (SMT)
Mounting Style
Right Angle Board Edge
Operating Life
50,000 cycles min.
IP Rating
NA
Operating Temperature
-40 ˚C to +85 ˚C
Storage Temperature
-40 ˚C to +105 ˚C
Fasteners
NA
Used With
Serial Memory Tokens, Secure Memory Tokens, NFX Tokens, RUGGEDrive Tokens
Environmental Specifications
Vibration: 15 G's (three axis)
Compliance
RoHS Compliant
Other Features
NA