SR4220VRT CryptoAuthentication Extension Board
The SR4220VRT CryptoAuthentication™ extension board is a PCB assembly that allows Datakey CryptoAuthentication memory tokens to be used with Microchip's CryptoAuthentication SOIC XPRO Starter Kit (Microchip part number DM320109). Specifically, the SR4220VRT CryptoAuthentication extension board plugs into the 20-position extension port connectors, labeled EXT1, EXT2 and EXT3 on the Microchip ATSAMD21-XPRO development board (included in the starter kit).

Datakey CryptoAuthentication memory tokens (e.g. IAT4.5Kb, IAX4.5Kb, IAT10.5Kb and IAX10.5Kb) may be plugged directly into the SR4220VRT receptacle (J1). This vertically-oriented receptacle is ideal for applications where it is desired to insert the token from the top of the enclosure or where it is desired to not have the receptacle accessible from the outside of the enclosure at all. A 10-pin header connector (J2) allows for the use of a Datakey SlimLine™ panel-mount receptacle. This gives maximum flexibility for locating the receptacle.

Custom firmware is available for the ATSAMD21-XPRO development board that demonstrates how the /LOFO line can be tied to an interrupt line and detect when a Datakey CryptoAuthentication token has been inserted or removed.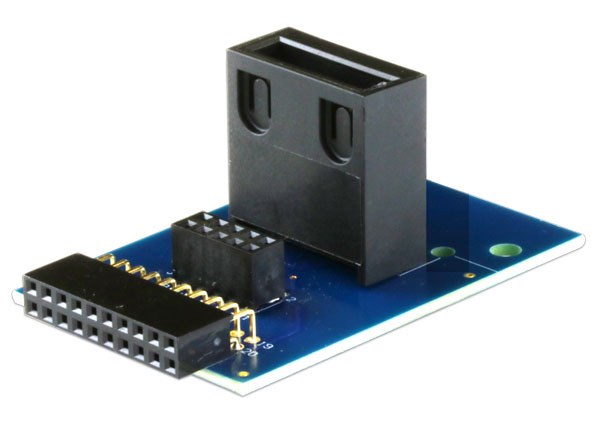 SR4220VRT CryptoAuthentication Extension Board
Part Number

607-0088-000A

Connects to

Microchip ATSAMD21 XPRO Extension Port

Interface

I2C

Power

3.3 V or 5.0 V Supplied Through Extension Header

Panel-Mount Receptacles

Panel-mount SlimLine Receptacles via Header

Board-Mount Receptacle

SR4220VRT

Receptacle Operating Life

50,000 Insertion/Removal Cycles Min.

Operating Temperature

-18°C to +66°C

Storage Temperature

-18°C to +66°C

Memory Tokens Supported

All Datakey CryptoAuthentication Tokens

Included Accessories

NA

Compliance

RoHS Compliant, CE

Other Features

Downloadable Firmware for Token Detection