IAT10.5Kb Memory Tokens
The IAT10.5Kb CryptoAuthentication™ memory token utilizes Microchip's ATECC608A CryptoAuthentication™ IC, enabling embedded applications, like:
• Secure storage/transfer of keys, certificates, passwords
• Secure credential with unique, read-only serial number
• Crypto Ignition Key (CIK)
• Device authentication (anti-counterfeit) with countdown limit use
• Secure Boot and Secure Download Firmware Update

The token's internal IC contains a 1208-byte (9664-bit) Data Zone of EEPROM memory that is divided into 16 slots. 8 slots are 36-bytes (288 bits), 7 slots are 72 bytes (576 bits) and one slot is 416 bytes (3328 bits). Each slot can be configured for read-only or read/write access in either clear or encrypted modes. There is also a 64-byte One Time Programmable (OTP) Zone. Data may be written until the zone is locked. Two monotonic counters can be used for limit-use applications. The IC also includes a unique 9-byte (72-bit) non-changeable serial number. The ATECC608A also features a random number generator, hardware support for asymmetric Elliptic Curve Cryptography (ECDH and ECDSACC) and hardware support for symmetric algorithms SHA-256 and AES-128. The IC also incorporates security features to detect tampering and thwart attacks.
CryptoAuthentication is a trademark of Microchip Technology Incorporated in the U.S.A. and other countries and is used under license.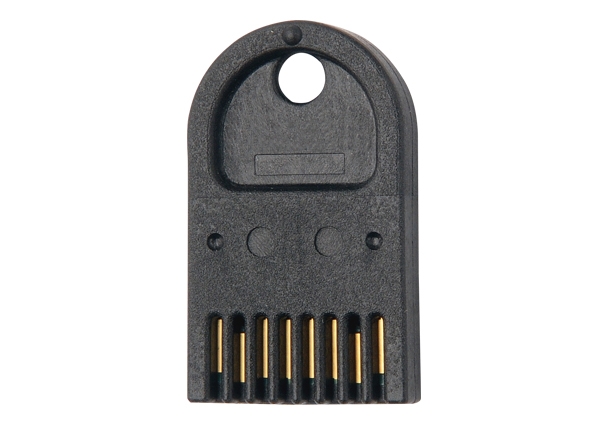 IAT10.5Kb
Part Number

611-0234-000A (Black)
611-0234-002A (Red)
611-0234-004A (Yellow)
611-0234-005A (Green)
611-0234-006A (Blue)
611-0234-008A (Gray)

Memory Capacity

10.5 Kb (11,200 bits)

Interface

I2C

Memory Technology

EEPROM

Voltage

2.0 to 5.5 V

ESD Protection

15 kV (air), 8 kV (contact) per MIL-STD-461G CS118

Read Cycles

Unlimited

Write/Erase Cycles

400,000 min.

Data Life (Storage)

10 years min. at 55˚C

Contact Life

10,000 cycles min.

Operational Temperature

-40˚C to +85˚C

Storage Temperature

-40˚C to +100˚C

Used With

All SlimLine Receptacles (SRxxxx)

Compliance

RoHS Compliant

Other Features

Redundant contacts.